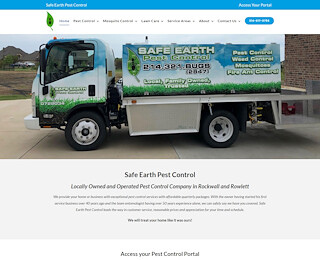 Safe Earth Pest Control serves Rockwall and the surrounding areas with affordable and effective pest eradication for both residential and commercial customers with pest problems. If you're currently dealing with a pest problem, no matter how big or small, call Safe Earth Pest Control at 214-321-BUGS and let the pros handle it.
Commercial buildings with a rodent problem know they have to get the problem in hand immediately or risk paying fines and possibly even getting closed down. Texas is home to several types of rodents that include the common house mouse, the roof rat and the Norway rat. Regardless of what type of rodent you suspect is inhabiting your building, at the first sign of droppings or of rodent activity, call in the experts from Safe Earth Pest Control to your Rockwall location.
It surprises many Rockwall Texas residents when they learn that rats and mice can squeeze through a space that is as small as one-quarter inch- and once they find an entrance into your building, they can make their way around inside of it very easily. Be sure you seal all entry points to your building as well as eliminate food and water sources that can invite them in, and cause them to stay. Once sealed, anything already living inside of the building will be trapped. For inside work, Safe Earth Pest Control prefers snap traps to poison for a variety of reasons.
Rockwall homeowners who discover that they have rodent activity going on in their home can be horrified with the thought of those tiny feet and long tail scurrying around after hours, getting into food supplies and spoiling their living area. Whether you've seen a mouse scurrying across your floorboards or have noticed some nesting in closet corners, the most practical thing you can do is to call Safe Earth Pest Control to come to your Rockwall home. They'll take care of the problem in no time.
Cockroaches are another reason for diligence in keeping a small problem from turning into an infestation. Cockroaches breed like- well, just like cockroaches- and before long, one or two of them can quickly turn into a countertop crawling with them when you turn on the kitchen light at night and startle them.
Rodents and cockroaches carry germs and diseases and must be quickly taken care of, whether they are infesting a home or a business. Safe Earth Pest Control is committed to Rockwall residents and business owners, with safe treatments that can be used around children and pets. Call 214-321-BUGS for your free inspection today and let the experts have a look at what's going on inside of your building.
Whatever the pest problem you are facing, from rodents and cockroaches to fire ants in your backyard or termites eating your home, you can count on the professionals from Safe Earth Pest Control of Rockwall, TX. Once pests have been eradicated, you schedule a maintenance plan that will keep them from ever coming back!